Camp 2015 booklet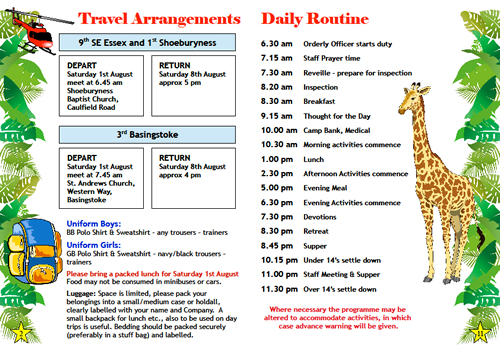 A booklet I produced for our Boys' Brigade 2015 Summer Camp. The theme for the week was "I'm a Camper get me out of here!" The design proved very popular with attendees and featured jungle page borders and cute cartoon jungle animals. The design is a 16 page full colour booklet to be printed on A4, folded and bound as an A5 booklet.
Booklet design
I put this 16 page booklet together in just three days of work using Open Office. I really wanted a clear and crisp look and feel to the entire booklet with bright and vibrant colours used throughout. Knowing that this was going to be printed on white A4 card, folded and bound, it made sense to stick with a white background and try to find some suitable artwork to match the theme of "I'm a Camper get me out of here!"
Artwork
All of the artwork is royalty free clipart that I found online. The jungle borders have been resized to fit the page and nicely frame the page content. The animals have all had their white backgrounds removed using Fireworks and saved in PNG format with transparent backgrounds so that I could place them over the jungle border artwork.
The logo on the front cover is an adaptation of the classic "I'm a celebrity get me out of here!" logo with the letters rearranged from "celebrity" to "camper". Luckily most of the letters were already there in the original logo, they just needed to be edited and repositioned. The "P" was the only missing letter but I simply edited "R" to remove the downward stroke and clean up the border to cover it.
The maps are screen captures taken from Google Maps, with a little editing to clean them up a bit and highlight the location we would be travelling to for Camp 2015.
View PDF pages
Click on the boxes below to view the PDF of each page.